No More Tears: How to Cut an Onion without Crying
I am an early bird of the grandest magnitude. Every day in the summer, I'm up at 5 a.m., sometimes slightly before. This, of course, means I am crashed out and in a snoring slumber by 9:30 p.m. most days.
But, early morning hours are my most productive. We like to joke around here that I would have done well in the Army, because I get more done before 8 a.m. than most people do all day.
But what does that have to do with tears and onions? Glad you asked!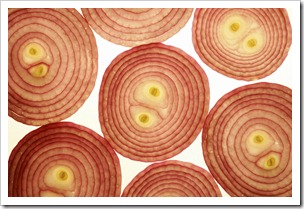 Earlier this week, I was watching a show on Food Network called Simply Delicioso that comes on at 5:30 a.m. (for us). I am not sure if this is the time it is seen across the country or not, but I'm guessing not too many people watch this show.
The host was making something with onions, and she pulled an onion out of the freezer to chop it up. Apparently if you freeze an onion for a little while (I'd go with about an hour), the juices freeze, and you can cut it without crying.
I tried it, and it works.
So, next time you have a potential tear-making onion, freeze it for a little bit before you chop it and there'll be no more tears!