Carrot Ginger Soup
Do you ever feel like you're giving off one impression, but then, get feedback that you are giving off a totally different impression unwittingly?
Apparently, I have been doing just this without realizing it! You see, in the last couple of weeks, several people that don't know each other have made comments to me that indicate they think I spend a ton of time cooking.
"I thought of you when I was making a dish that took 2 hours." Or, "I just don't have the time you do to cook."
Holy cannolis, I have no idea why my friends think I spend hours in the kitchen (especially since we don't have a kitchen…still). While we do eat  most meals at home and I do like to eat fresh, healthy, seasonal food, I most definitely do not spend hours preparing it! Between working full time, remodeling a house, and, trying to stay in shape, it is just not physically possible for me to slave over my double burner hotplate like that!
For those curious about the remodel, we have a goal to have a finished kitchen by the end of July. I should probably write up a post on how we have lived for 9 months without a kitchen!
Anyway, today, I have a recipe for something that is tasty, easy, fast, and makes a lot – exactly the kind of recipe I like. I made this Saturday evening after a full day of home improving, and it came together in a snap.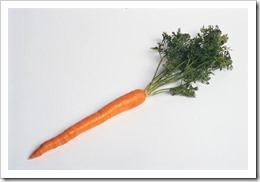 This recipe was inspired by a soup I picked up at PCC Market a few weeks ago, from CookSF. While their soup was delicious, and made from ingredients you would recognize, it was also expensive – I think it was around $6.50 for a container. Ouch. I knew right away I needed to recreate it!
Carrot ginger soup uses simple ingredients you probably already have on hand, and you can make a big pot for way less than $6.50! Here's my take, but you could really go any number of directions with this depending on your tastes. I think next time I may add some turmeric root as well – the color of this soup just screams that it would like some turmeric.
Serve with a spinach salad topped with pears, walnuts, and dried cranberries on the side for a hearty and filling – and super healthy – meal.
Carrot Ginger Soup
Makes: About 8, 1 cup servings
Time Required: 10 minutes prep; 45 minutes to simmer
Ingredients:
1 tablespoon coconut oil
6 medium/large carrots, peeled and roughly chopped
1/2 yellow onion, peeled and roughly chopped
1 tablespoon minced fresh garlic
3 tablespoons peeled, minced fresh ginger root
1 large apple, peeled and roughly chopped
1 teaspoon sea salt, or to taste
4.5 cups vegetable stock (make your own and save money!)
1, 12-ounce can of coconut milk (must be from the can, not carton – I used Trader Joe's Light Coconut Milk because that is what I had on hand, but whole fat is likely better)
Method:
Heat the coconut oil in a 2-quart stockpot over medium heat until melted.
Sauté the carrots and onion, and cook for several minutes, stirring often, until softened.
Add the garlic, ginger, and apple. Sauté until the garlic and ginger
are fragrant.
Add the stock and salt. Reduce the heat to medium low and simmer, covered, for 45 minutes, or until the vegetables are very tender.
Ladle carefully into your blender and puree the soup until smooth. This will fit in one batch in a 72 ounce jar of a Ninja Blender, but you may have to do two batches if you have a smaller blender jar.
Return the soup to the pot, add the coconut milk. Taste test to determine if you need more salt, and heat until warm before serving.
Nutritional Info
Based on homemade stock without added salt, and Trader Joe's light coconut milk. Store bought stock will add sodium.